A meeting was held this morning, September 29th, 2020, among the Chairman of Board of the High National Elections Commission, Dr. Emad Al-Sayah, and some Heads of Municipal Councils, namely: Mr. Moftah Ahmadi, Mayor of Zliten Municipality, Mr. Jamal Bahr, Mayor of Al-Zawiya Municipality, Mr. Mustafa Al-Barouni, Mayor of Zintan Municipality, and Mr. Abdel Raouf Bait Al-Mal, Mayor of Tripoli Municipality, in the presence of Mr. Abdul Hakim Al-Shaab, the member of the Board of Commissioners.
The meeting, which was held at HNEC HQ, in Tripoli, discussed a range of issues related to the constitutional track, and possibilities for the electoral process, in addition to means of cooperation between the HNEC and Municipal Councils to support any prospective electoral process.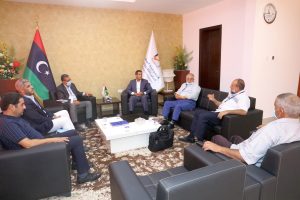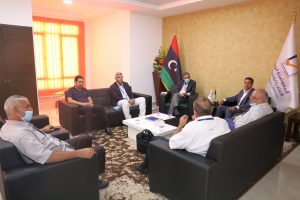 Dr. Al-Sayeh briefed the Heads of the Municipal Councils on the level of the HNEC's readiness for the upcoming constitutional processes, and stressed the importance of cooperation between the HNEC and the Municipalities on public outreach and logistical support, indicating that the electoral awareness is a national responsibility shared among the HNEC and the Municipal Councils, within the framework of activating the partnership between the HNEC and the Municipalities, that is stipulated  in electoral legislations.